Each week Nikolas Badminton, Futurist Speaker, summarizes the top-5 future looking developments and news items that I find to be inspiring, interesting, concerning, or downright strange. Each day he reads through dozens of blogs and news websites to find those things that we should be aware of.
In Exponential Minds' The Future of Limitless Energy we look at graphene and unlimited power, Ericsson's Mobility Report, cryptocurrencies are securities, and building with farm waste.
Using the Natural Motion of 2D Materials to Create a New Source of Clean Energy
The research of Paul Thibado, professor of physics at the University of Arkansas, provides strong evidence that the motion of two-dimensional materials could be used as a source of clean, limitless energy. Thibado and his students studied the movements of graphene, which is composed of a single layer of carbon.
Read more at the University of Arkansas
Inside the mechanics of building 8,000lb human-powered robo-athletes
If Jonathan Tippett had his way, the Olympics of the future would showcase more than mere humans—he foresees human-powered robot athletes, too. And at a Toronto tech event this July, the Canadian mechanical engineer asked us to imagine racing events where pilots would embed themselves in massive exo-bionic mechs. Think of it as a pimped-out version of the dual-arm power loader Ripley donned in Alien or maybe the setups now familiar to Titanfall competitors.
We didn't have to imagine for long. Tippett soon showed off the first entrant into this idea of mech racing, and the gasps made their way around the room quickly. Tippett had introduced us to Prosthesis, an electric-powered, 8,000-pound, 15-foot-tall exo-bionic platform that amplifies the motions of the pilot sitting within a cockpit in the middle of the mech. Built from chromoly steel, Prosthesis can potentially run at 21mph, jump as high as 10 feet, and operate for two hours on a single charge.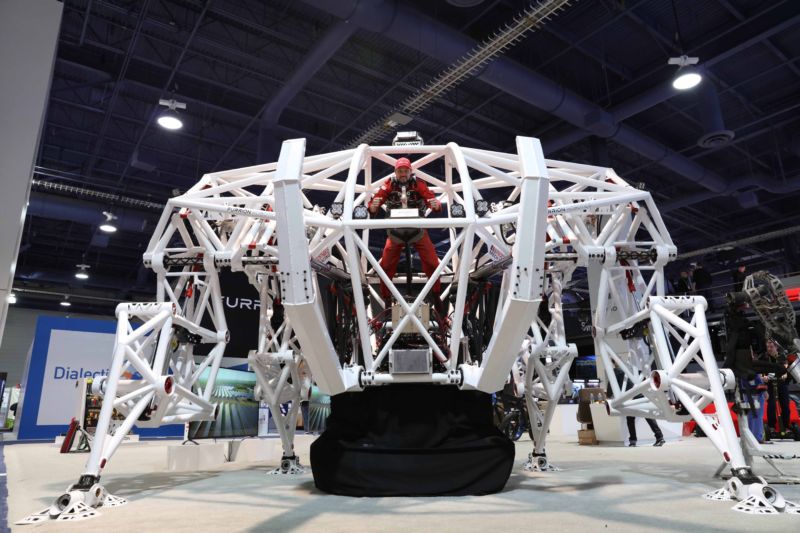 Nikolas Badminton  interviewed Jonathan at the beginning of his project:

Read more at Arstechnica
The Ericsson Mobility Report
In 2023, the number of 5G subscriptions for enhanced mobile broadband is forecast to reach 1 billion. The evolution to 5G will also enable a range of new use cases transforming business processes and leisure time.
The November 2017 edition of the Ericsson Mobility Report continues to forecast the growth of mobile technology. The number of LTE subscriptions is growing rapidly, and we anticipate that LTE will become the dominant mobile access technology by the end of this year. We also explore mobile data plan trends and why operators need to provide a range of offerings, as well as two different aspects of 5G: enhancing the event experience through digitalized services and consumer expectations for the technology.
Read more at Ericsson
New Zealand Regulator: Cryptocurrencies Are Securities
New Zealand's finance regulator has released new guidance on initial coin offerings (ICOs) and cryptocurrencies.
In a statement published last week, the New Zealand Financial Markets Authority (FMA) outlined the ways in which token sales would be covered under national law. Notably, the regulator said that, in its view, any cryptocurrency or ICO-derived token would be considered a security.
The FMA said:
"All tokens or cryptocurrencies are securities under the [Financial Markets Conduct Act 2013] – even those that are not financial products. A security is any arrangement or facility that has, or is intended to have, the effect of a person making an investment or managing a financial risk."
Read more at CoinDesk
World's first Biological House is built from farming waste
The Biological House was created by a multidisciplinary team involving more than 40 partners, including Copenhagen-based design firm Een TIl Een, sustainable architecture firm GXN, wood-treatment company Kebony and the Danish Ministry of Environment.
To begin, GXN teamed up with partners from the Danish farming sector to gather biomaterials that would otherwise be burned for energy, things like grass, straw, tomato stems and seaweed. These were then combined into composites to maximize their strength and pressed into boards for cladding.
Read more at NewAtlas