Each week Nikolas Badminton, Futurist Speaker, summarizes the top-5 future looking developments and news items that I find to be inspiring, interesting, concerning, or downright strange. Each day he reads through dozens of blogs and news websites to find those things that we should be aware of.
In Future Trends – 4-dimensional Time Crystals we look at Time Crystals, a grocery-carrying robot for the mods, AR for the home (it's a little quirky), UBER making flying cars, and new power generation in Europe is renewable.
There's A New Form Of Matter That Exists In Four Dimensions!
Physicists have created a new form of matter called TIME CRYSTALS!
Read more at Seeker
Vespa's new robot will carry your groceries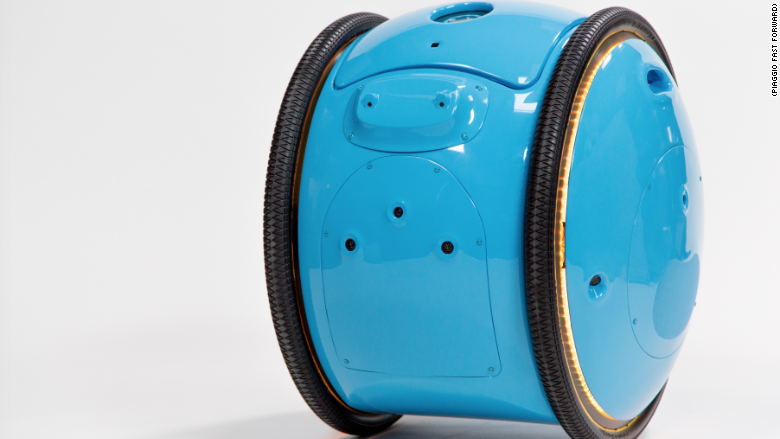 The Italian company is opening a Boston-based division, called Piaggio Fast Forward, to focus on the future of mobility. Its first creation is Gita, a robot designed to carry cargo, such as groceries, and follow around a pedestrian or cyclist.
The vision is that Gita will be able to do mundane chores for owners. Standing at about two feet tall and with the ability to carry 40 pounds of stuff, the robot has a lid that opens to reveal the cargo bin. It can travel at a top speed of 22 mph.
There's no timeline for when a consumer can get their hands on one, and price has not yet been disclosed. But Piaggio Fast Forward said it will conduct pilot tests with businesses this year.
Read more at CNN
Hayo, Augmented Reality for the Connected Home
Hayo transforms the objects and spaces around you into a set of magical remote controls.
Uber Taps NASA Expert to Make Flying Cars a Reality
Uber's ride sharing concept didn't just revolutionize the transportation industry – it carved a totally new business model. It's no surprise then, that the company is consistently investing in technology that will once again prove to be game changing.
Last October, Uber announced plans to develop vertical take-off and landing (VTOL) aircraft to provide a cost-effective and efficient ride sharing service that can shuttle passengers around cities. Now, former NASA engineer Mark Moore will be joining the team to bring these flying, on-demand vehicles into reality.
Moore, who originally lent his engineering expertise for Uber's white paper on the VTOL craft, will now serve as the company's Director of Engineering for their new concept, dubbed Uber Elevate.
"I can't think of another company in a stronger position to be the leader for this new ecosystem and make the urban electric VTOL market real," the 30-year NASA veteran shared with Bloomberg. 
Read more at Futurism
Almost 90% of new power in Europe from renewable sources in 2016
Renewable energy sources made up nearly nine-tenths of new power added to Europe's electricity grids last year, in a sign of the continent's rapid shift away from fossil fuels.
But industry leaders said they were worried about the lack of political support beyond 2020, when binding EU renewable energy targets end.
Of the 24.5GW of new capacity built across the EU in 2016, 21.1GW – or 86% – was from wind, solar, biomass and hydro, eclipsing the previous high-water mark of 79% in 2014.
For the first time windfarms accounted for more than half of the capacity installed, the data from trade body WindEurope showed. Wind power overtook coal to become the EU's second largest form of power capacity after gas, though due to the technology's intermittent nature, coal still meets more of the bloc's electricity demand.
Germany installed the most new wind capacity in 2016, while France, the Netherlands, Finland, Ireland and Lithuania all set new records for windfarm installations.
Read more at The Guardian