In the EXPONENTIAL MINDS' Artificial Intelligence Bulletin – USEFUL ROBOT WORKERS we see Nikolas Badminton interviewed on a world with robot co-workers, a roadmap for self-driving cars, China's robot revolution, robot funerals, and being human in the age of AI.
What Will It Be Like To Have Robot Coworkers?
You already have an idea of what the future of work looks like because you are likely already working with bots, artificial intelligence, and machine learning. They are increasingly being incorporated into everything from work stations to websites to cloud platforms.
But while the U.S. is leading the world in robotics investment, "There is clear evidence that points toward robotic automation in many cases being a complement for human labor, rather than a direct substitute," says David Whitaker, managing economist at the Centre for Economic and Business Research.
…
That functionality is going to save time and improve the way we work, says futurist Nikolas Badminton. By the time you sit at your workstation, your tech assistant will likely have organized scheduling and tasks in anticipation of the day ahead. 'You're probably going to walk into an office and your system's been churning over the last couple of hours considering what's been going on in business, your role, your job, what you need to do that day, and probably offer up several ideas about the right direction of what to do," he says.
Read more at Fast Company
NVIDIA CEO: Here's Our Road Map for Growth From Autonomous Cars
NVIDIA has inked several partnerships for the use of the platform in vehicles that are already on the market or are slated to come to market within the next five years:
Tesla: In October, the electric-vehicle maker began using DRIVE PX 2 to power its Autopilot on all new Model S and Model X vehicles, and its more affordable Model 3, which began shipping in July, is similarly equipped.
Volkswagen's Audi: In January at the Consumer Electronics Show (CES) 2017, NVIDIA and Audi announced their collaboration to put advanced AI cars on the road starting in 2020. In July, Audi unveiled its new 2018 A8, which is the world's first Level 3 (we'll get to Levels in a moment) autonomous car to go into production.
Daimler's Mercedes-Benz: This partnership to bring a NVIDIA AI-powered Mercedes car to market was also announced at CES 2017.
Toyota: In May, NVIDIA announced that the giant automaker will use the platform to power its autonomous driving systems in vehicles planned for market introduction within the next five years.
Volvo: In June, the Swedish auto maker and Swedish auto supplier Autoliv announced they're teaming with NVIDIA to make production vehicles built on the DRIVE PX 2 platform by 2021.
Baidu: In July, the Chinese search engine giant announced that it's adopting DRIVE PX 2 for its autonomous vehicle initiative and will also use the platform in developing self-driving cars with major Chinese automakers.
Read more at Fool
China's Robot Revolution May Affect the Global Economy
China is installing more robots than any other nation, and that may affect every other nation.
Shipments jumped 27 percent to about 90,000 units last year, a single-country record and almost a third of the global total, and will nearly double to 160,000 in 2019, the International Federation of Robotics estimates.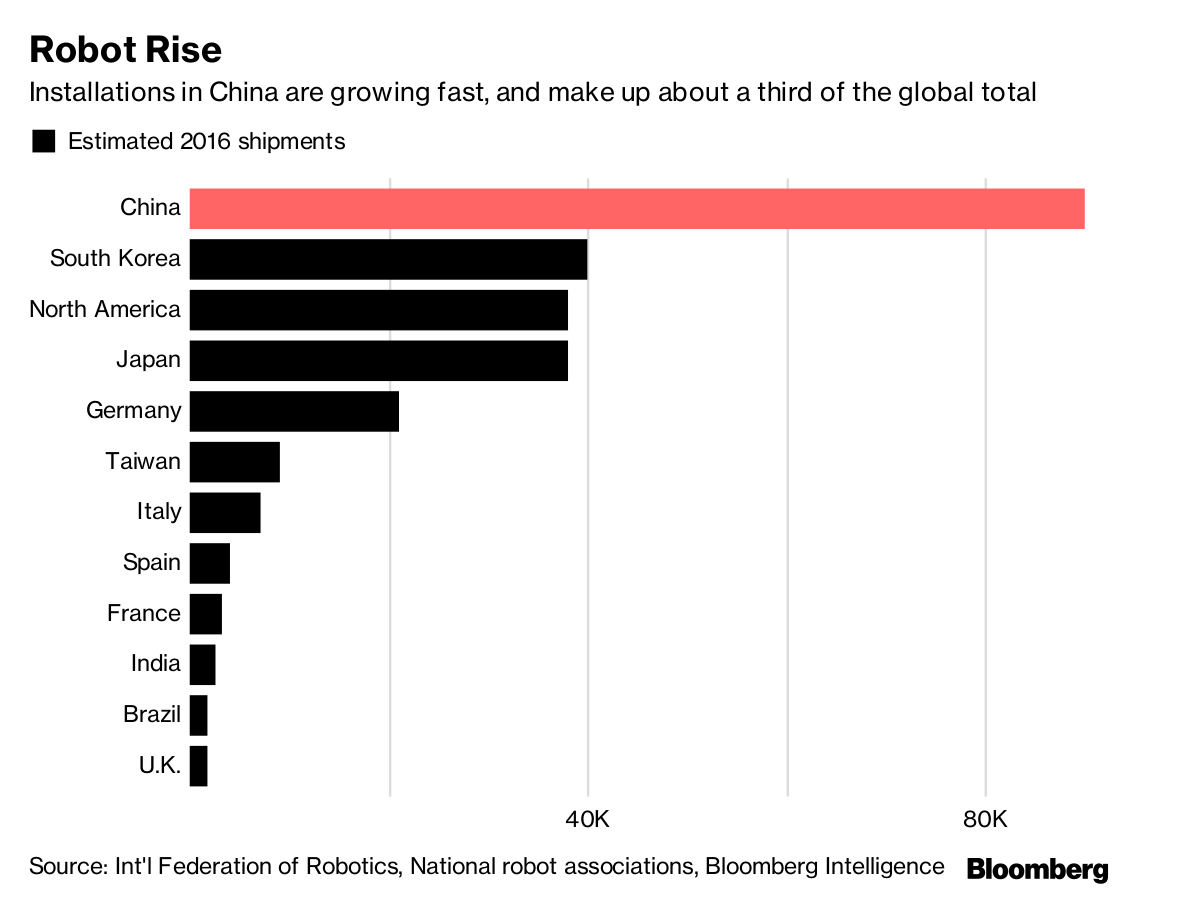 Read more at Bloomberg